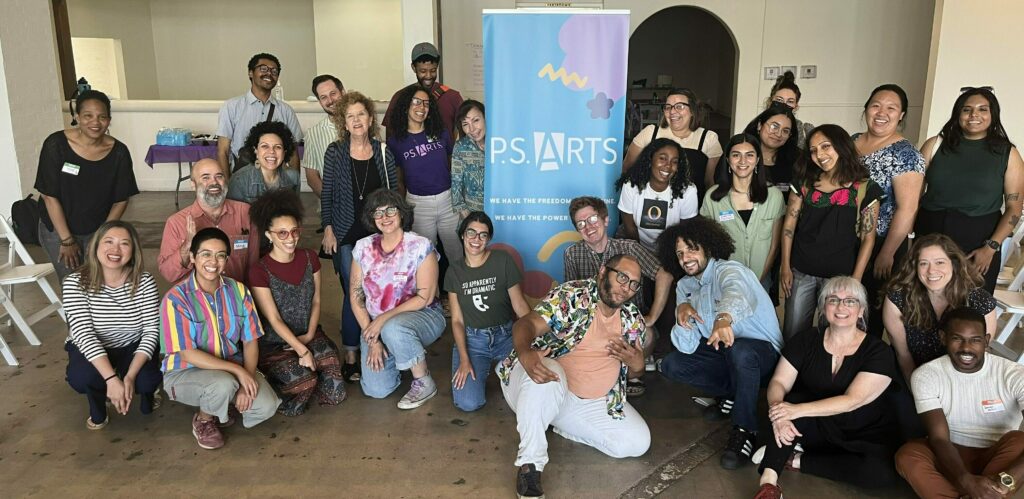 In response to the growing need for highly skilled Teaching Artists both within P.S. ARTS and the arts education landscape of Los Angeles, we welcomed 21 new trainees to our 2nd annual Teaching Artist Summer Intensive (TASI) earlier this month.
This two-week, hybrid program led participants through a 10-week Visual Arts and Theater stARTer Unit Curriculum focusing on Social Emotional Learning (SEL), Diversity, Equity, Inclusion, and Belonging (DEIB) in both curriculum and instruction. 
The training guided participants through the P.S. ARTS lesson plan framework including the alignment and assessment of CA Visual and Performing Arts and Learning for Justice's Social Justice standards. Trainees also experienced model lessons taught by P.S. ARTS Faculty, offering a hands-on approach to learning while observing exemplar instruction.
The training culminated in demo lessons facilitated by each trainee, showcasing what they'd learned through their own unique style and approach. We are excited to continue expanding our faculty and hope to include many TASI grads on our current and future rosters!
The next TASI is in the works! Please check back for more information, or follow us on social media to stay up to date on the latest P.S. ARTS news. You can learn more about all our Educator Development programs here.