The 2023-2024 school year Programs theme is here! Before the start of each school year, P.S. ARTS staff and faculty meet to choose a theme that unify our multidisciplinary programs and guide curriculum. We then select "Anchorworks", specific artworks which are works created by a diverse group of artists that help anchor teaching and learning in real world examples of artistic traditions and practices.
We use the term "anchorwork" to draw inspiration from the artists and art works,  "anchoring" the chosen theme of the year. Through our Theme and Anchorworks guide, P.S. ARTS seeks to amplify the work of local artists, representative of the communities we serve, including those historically underrepresented. 
Our theme for the 2023-2024 school year is A Year of Play. 
P.S. ARTS has chosen the theme, "A Year of Play",  to dedicate an entire year to the importance of creative exploration, spontaneity, and imaginative thinking in the hopes that it leads to a lifetime of play. Play can also be a way to heal, to grow, to define identity and to connect with our fellow humans; all the things needed to foster an environment where children have the freedom to imagine and the power to create. Putting play at the center of our year shows our students that we value them and their experience above all else.
Read more about this year's Anchorworks and the artists that will inspire our Teaching Artists and students throughout the school year!
Music
"Happy" by Pharrell Williams
"Happy" by Pharrell Williams was released in 2013 as the only single from the soundtrack album for the film Despicable Me 2. It is a feel-good, upbeat track that celebrates happiness, positivity, and the joy of being alive. Pharrell was asked to create a song for the grumpy character Gru, who falls in love and suddenly becomes a happy person. Pharrell stated that it took him 10 attempts to write the song for Gru, and he was starting to feel discouraged but on his tenth try, he wrote "Happy" and said "I don't know what this is, but it feels good". The lyrics of "Happy" convey a simple yet powerful message: that happiness is a state of mind and can be found within oneself. The song encourages listeners to embrace happiness as a choice and to let go of negativity. It emphasizes the importance of gratitude, self-expression, and finding joy in the little things in life. Throughout the song, Pharrell's lyrics encourage people to clap along, if they feel like happiness is the truth, engaging the audience and inviting them to actively participate in the celebration of happiness. The infectious rhythm and catchy melody of the song further contribute to its uplifting and optimistic atmosphere. The song's music video, which features people of various backgrounds and ages dancing and expressing their happiness, further reinforces its positive and inclusive message. Overall, "Happy" by Pharrell Williams is a song that promotes a positive outlook on life, encourages people to find happiness within themselves, and celebrates the simple joys that can bring us all together. It serves as a reminder to embrace happiness, spread positivity, and appreciate the beauty of being happy. We can find a play theme connection in that play nourishes our spirit and cultivates a positive mindset. It reminds us of the importance of presence, of immersing ourselves fully in the moment, as the song suggests.
Dance
Ladies Battle! By Ladies of Hip Hop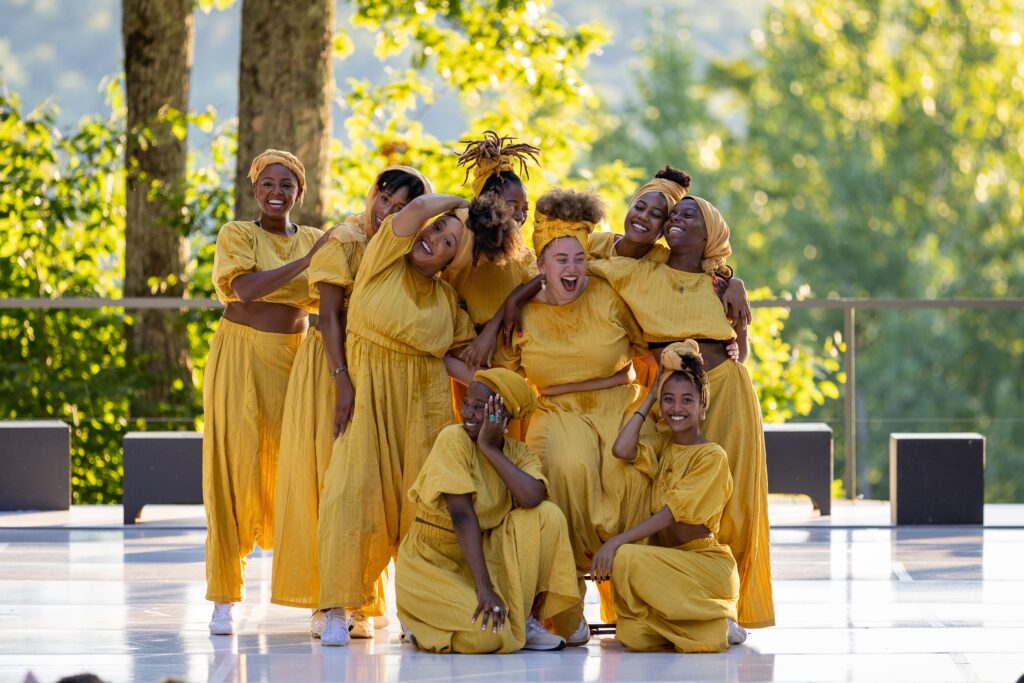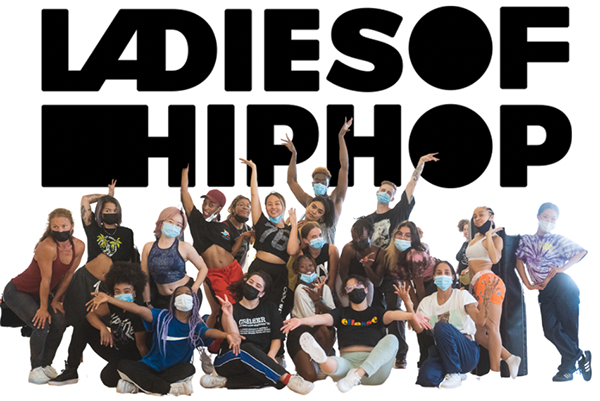 The dance Anchorwork is the culminating day of the Ladies of Hip Hop Festival, an annual event. The week-long festival consists of educational seminars on hip hop, dance workshops, choreography showcases and then culminates in Ladies Battle!, a session dedicated to dance battles. Dance battles have a rich and vibrant history that spans cultures and generations. Play is an essential element in dance battles. It fuels the creativity, spontaneity, and joy within these competitive events. Dancers engage in a ABOUT LADIES BATTLE! playful exploration of movement, pushing the boundaries of their skills and imagination. They embrace the freedom to experiment, improvise, and express themselves in the moment. Play in dance battles encourages dancers to take risks, try new moves, and engage in friendly competition with a sense of lightness and enjoyment. Dance battles are historically a male-dominated activity, which spurred The Ladies of Hip Hop (LOHH) to create a space for women to battle in street and club dance styles. The atmosphere is playful, respectful, collaborative and supportive. In the videos, (house, hip hop, and waacking battles) you'll see the dancers playfully responding to each other, collaborating on improvised movements and once the winner is declared, the dancers hug, signaling that it's not the result that matters, it's the fun of the performance that counts. LOHH fosters a vibrant and dynamic atmosphere where dancers can connect with the music, interact with each other, and captivate the audience. 
Literature 
"PLAYING LOTERÍA" by René Colato Laínez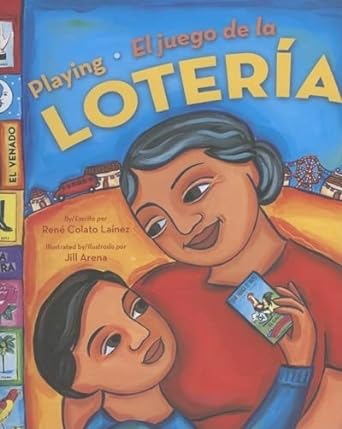 In the Spanish/English tale of "Playing Lotería" by René Colato Laínez, we embark on a journey that beautifully encapsulates the power of connection, love, and the magic that can unfold when language barriers are bridged. Laínez takes us into the world of a young boy who grapples with the fear of visiting his grandmother in Mexico, where their language divide seems like an insurmountable hurdle. But, Abuela wisely recognizes that through the shared experience of Lotería, a traditional Mexican game, she can connect with her grandson through play and a remarkable transformation takes place. Laínez's storytelling infuses every page with warmth and humor, as we witness a little boy's
growth and his blossoming relationship with his abuela. By practicing the riddles that go with each lotería card, the boy's Spanish skills improve, and he discovers the incredible bond that can be forged even when words don't easily flow. As their time together unfolds, we witness the magic of biculturalism explored through play. Laínez's story is a reminder that love and connection transcend language and celebrates bilingualism and multiculturalism. It is a testament to the power of shared experiences, mutual understanding, and the profound joy that comes from time spent with our loved ones, regardless of the languages we speak. 
Theater
Plays UnscriptedBy Impro Theatre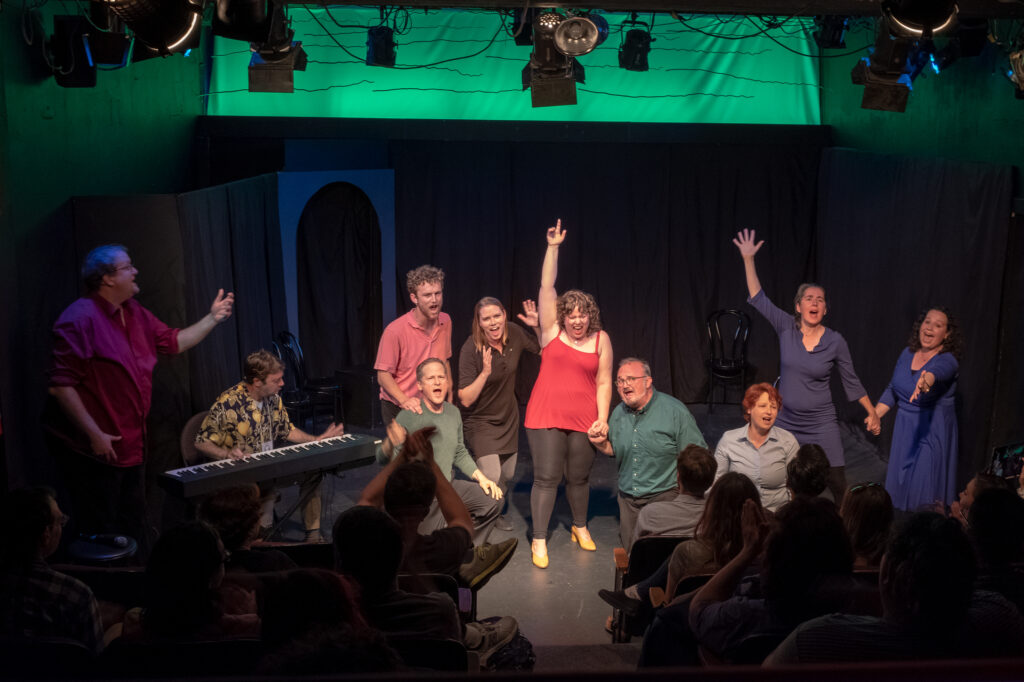 Founded as Los Angeles Theatresports in 1988, Impro Theatre has evolved from a successful short form improv troupe into a critically acclaimed improvisational theater company that specializes in improvised performances of full length plays, aptly naming most of their shows based on the genre they explore, such as Noir Unscripted or Jane Austen Unscripted. 
To create a deep understanding of a genre, the ensemble delves into weeks of thorough study of the author's writing style, iconic characters, and the historical period, before taking the stage in front of a live audience. In the case of Sondheim Unscripted and 1966 Holiday Variety Extravaganza which both have musical elements, they practice vocal exercises and musicianship so that they are able to compose and perform songs in real time. After weeks of rehearsal and practice, the improvisers are ready to write a play right before the audience's eyes, and they think of themselves as a team of authors. Everything from lighting, music, songs, props, storylines, and characters are conjured spontaneously. Their extensive research and rehearsals lead to a comfort with performing and really allow the improvisers to play together and enjoy their time on stage. But with so much of the play being created on the fly, there are bound to be mistakes, but the improvisers work with whatever evolves, implementing the classic "yes, and" improv rule, often leading to hilarious results. The audience, too, accepts that there will be mistakes as that is part of the fun. About Impro Theatre and Plays Unscripted Each performance begins with the cast asking for audience suggestions. From there, the show takes unexpected and exciting directions. The improvisers "play for truth" meaning, instead of trying to "be funny," they invest in creating real, true-to-period characters with strong needs and personalities, and let the comedy stem from their interactions. The company has explored writers and genres including Tennessee Williams, Shakespeare, Jane Austen, The Twilight Zone, film noir, and holiday specials.
Visual Arts
"Please DO Touch the Art!" by Dan Lam
In November of 2021, artist Dan Lam and the brand, Kinetic Sand, co-hosted an interactive exhibit entitled, "Please DO Touch the Art!", at the Waterfall Mansion Gallery. As the country was emerging from the pandemic, audiences, children especially, were starved for connection. The exhibition challenged the notion that the audience's primary function is to be the viewer, and instead the artist invited people to play and become collaborators with the artist.