Every year, P.S. ARTS chooses a theme to inspire curriculum planning and unify our multidisciplinary programs. To complete the theme we select "Anchorworks," which are works created by a diverse group of artists that help anchor teaching and learning in real world examples of artistic traditions and practices. Our theme for the 2022-2023 school year is Community Garden: Yours, Mine, Ours.
Community gardens have existed all over the world for thousands of years, serving many purposes from practical to transcendent. Ancient and contemporary artworks illustrate people cultivating land together to grow food and other essential resources, socialize and build community, connect with nature, take refuge, think, wonder, and create. The globally rich and enduring history of this practice makes Community Garden: Yours, Mine, and Ours a powerful metaphor for exploring a range of human experiences, conditions, and our interconnected survival with flora, fauna, and one another.
With this theme in mind, the P.S. ARTS programs staff and faculty selected visual art, music, theater, dance, and media art Anchorworks. The Anchorworks represent a wide range of perspectives, human experiences, and creative expression related to the theme, and highlight the role of artists and art in placemaking and social justice activism. Read more about this year's Anchorworks and artists that will inspire our Teaching Artists and students throughout the 2022-23 school year!
MUSIC
TEMPO Music for Climate Action by Dr. Lucy Jones 
Inspired by the way in which music played a central role in building community during the Civil Rights movement of the 1960s, Dr. Jones is using music to create community and address the climate crisis. Jones' career revolved around the U.S. Geological Survey (USGS), specializing in earth's movement in Southern California. After leaving the USGS, she founded the Dr. Lucy Jones Center for Science and Society, where she created TEMPO Music for Climate Action, an initiative that combines her expertise about the planet with her passion for music. One composition that grew from this initiative is In Nonime Terra Calens: In the name of the warming earth, which aims to reinstate the increasing pace of climate change by transforming the recorded temperature of the Earth over the last 138 years into notes that we can hear.   
CREDITS: Composed by Lucy Jones Performed by Ostraka – Josh Lee, Director – Recorded and Engineered by Jeremiah Johnson – Mixed by Ben Cooper – Produced by Josh Lee – Recorded at Bear Machine Studios, Glendale CA, April 6, 2019.
---
DANCE
… seeds : RE GENERATION by Dancing Earth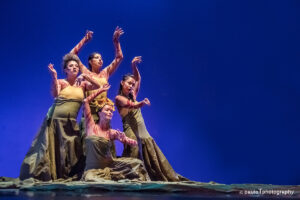 Dancing Earth is a performance group comprised of intertribal artists based in Ogaa Po Ogeh (occupied Tewa territory known as Santa Fe, NM) and Yelamu (occupied Ohlone territory known as San Francisco, CA) with direction and choreography by Rulan Tangen. The group aims to tell the story and history of several tribes within a contemporary dance setting and has represented over 21 First Nations community members. In the performance SEEDS: RE GENERATION, the dancers ground their movements around the idea of "resilient adaptability" with routines that have been workshopped around, and based on, interactions with farmers, seed savers, foragers, and food and water justice groups. This performance is designed to be indoor or outdoor and easy to adapt to the changed setting, much like the resiliency shown in many of the stories reflected throughout the dance.
---
Theater/Literature
Grades K-2nd: Jayden's Impossible Garden written by Mélina Mangal and illustrated by Ken Daley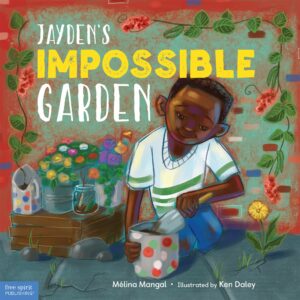 In this wonderfully illustrated book, a young boy named Jayden sets out to show his mom the beauty and nature in the city that he sees all around him. With help from a neighbor, Mr. Curtis, he begins to plant a community garden and bring together his neighbors and friends to share the magic and fun. With a focus on intergenerational relationships, community, and creativity, this book sets out to inspire readers to pause and admire the nature they see every day in their own lives.
Grades 3rd-8th: Communal Spaces by The Motor Company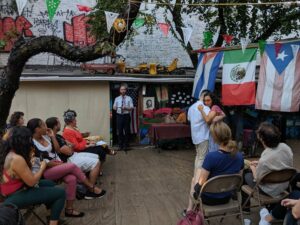 The Motor Company is a New York City based theater company founded in 2011. They create and produce theater revolving around access and community.  Their shows are free, open to everyone, and held in an array of public spaces such as community gardens, bars, parks, and even laundromats. Their performances encourage the audience's participation to incorporate as many stories as possible and create a connection to both the city and those that inhabit it. They believe theater should be inclusive, equitable, community-oriented, and welcoming to all.
---
VISUAL ARTS
Our Lives are in the Lands by Christi Belcourt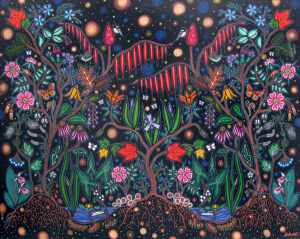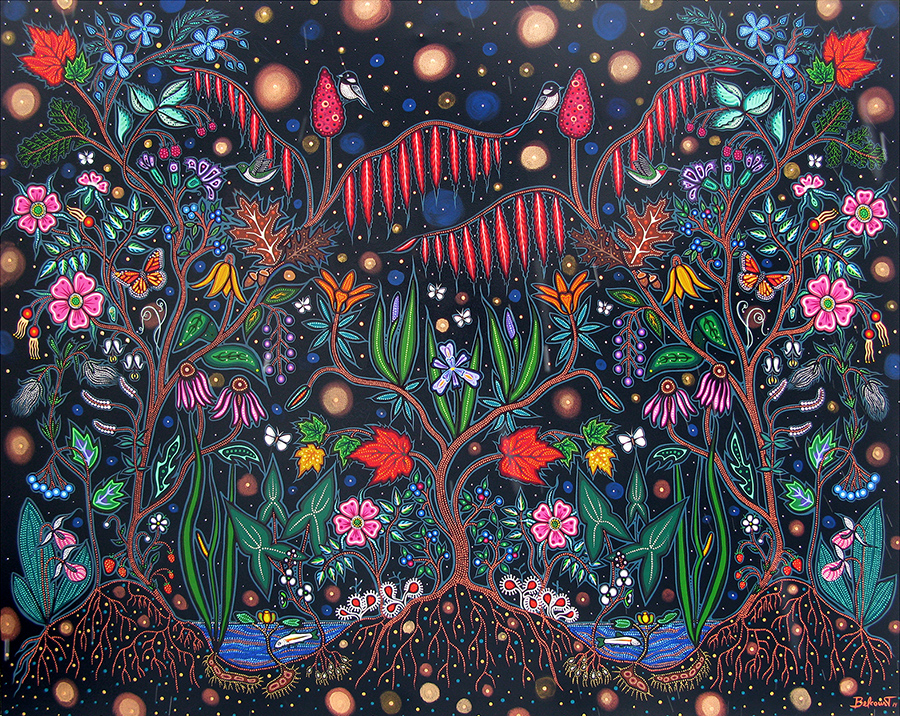 "This wondrous planet, so full of mystery, is a paradise. All I want to do is give everything I have, my energy, my love, my labor—all of it in gratitude for what we are given." -Christi Belcourt
Christi Belcourt is a Michif (Métis Nation) artist, environmentalist, and activist known for both her beadwork-style paintings and community based art. Her work focuses on humans connections to the earth, often centralizing the delicate ecosystems we owe our existence to as a means of warning us about the destructive tendencies towards it. In the painting Our Lives are in the Lands Belcourt upholds the beauty of nature using small dots of bold bright colors to depict plants, animals, stars, water, insects, and soil all under a title that reminds viewers that we are all interconnected through these essential and valuable resources. Her paintings hold a sense of inclusivity, interconnectedness, and respect towards the nature it depicts. 
---
MEDIA ARTS
Story of Flowers 2 directed by Azuma Makoto, illustrated by Katie Scott, and animated by James Paulley
Story of Flowers 2 is the second film in a botanical animation series which aims to encourage children to build a connection with the flowers and nature they see around them. This animated work depicts the growth and versatility of plants and flowers and the role they play and what they represent throughout our lives. From a garden, to a dinner table, to decor, and sentimental bouquets, this video shows various ways that flowers connect with people around the world and serve as sustenance for the mind, body, soul, and heart.   
---
Want to see former P.S. ARTS Theme and Anchorworks? Check out these blog posts!
2021-22: Weaving the Threads, Reconnecting Our Stories
2020-21: Weaving the Thread, Connecting Our Stories
2018-19: The Light of Discovery
2015-16: All the Colors I Am Inside!
2014-15: Building Bridges, Breaking Barriers