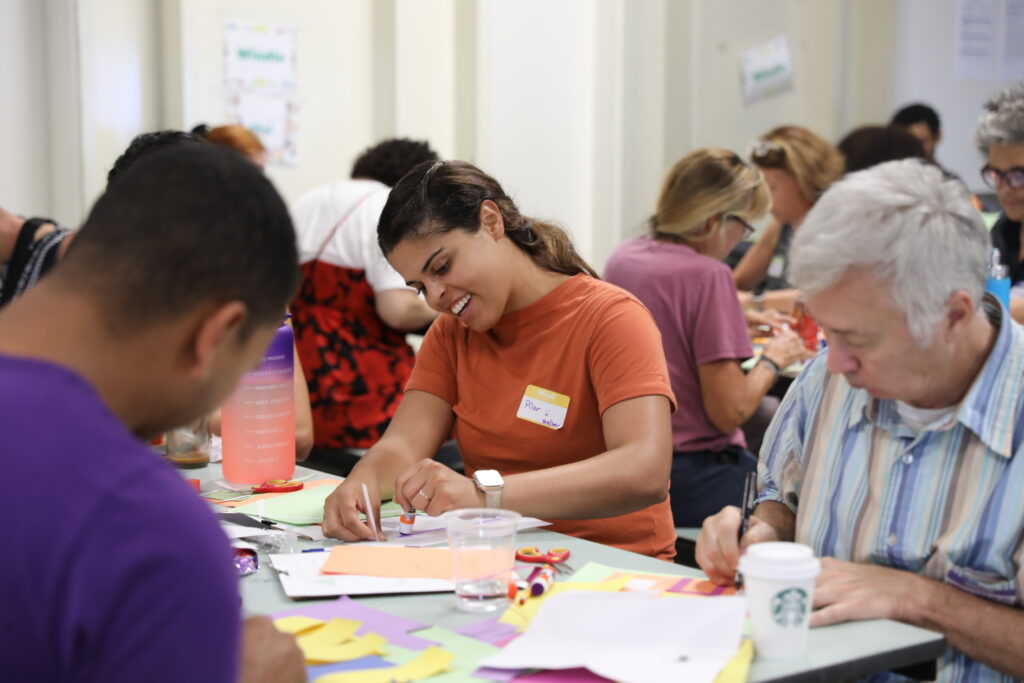 In the early summer days of August 8th and 9th, 2023, something remarkable happened – P.S. ARTS faculty and staff came together for their highly anticipated annual in-person Summer Professional Development (PD). This epic gathering marked a triumphant return to face-to-face interactions after the era of virtual meetings was induced by the COVID-19 pandemic. The result? A two-day 
extravaganza of workshops, camaraderie, and inspiration, setting the stage for an electrifying 2023-2024 school year.
At the heart of this event was the captivating theme, "A Year of Play," which acted as a beacon of joy and unity. Imagine day one as a canvas, painted with a cultural mapping activity orchestrated by the ingenious Jaime Reichner, the Associate Director of Educator Development. This artistic endeavor not only connected participants but underscored the mesmerizing power the arts wield in building bridges that lead to deeper student engagement.
Then, the spotlight shifted to KJ Wade, a maestro who once graced the P.S. ARTS stage as a Teaching Artist and now serves as the dance curriculum virtuoso. The stage was set for a culturally responsive dance lesson dubbed "The FUNdamentals of Hip Hop". Wade, expertly infused her model dance lesson with  Universal Design for Learning and Visual Thinking Strategies that empowered all participants through rhythmical fun. The dance floor soon became a testament to hip-hop's global influence over music, fashion, and culture. As the curtains rose on workshops led by the illustrious Darryl King and the visionary Tiffany Owens, senior leaders of P.S. ARTS,  anticipation was at an all-time high.
Darryl King, a skilled facilitator in the realm of Educator Development and Community Arts, graced the platform with an enlightening visual arts lesson on the power of Arts Integration. Meanwhile, Program Director, Tiffany Owens, continued the summer pd symphony with her harmonious focus on Diversity, Equity, Inclusion, and Belonging, equipping all attendees with a treasure trove of tools for inclusive classrooms.
On day two, the curtains rose once more, unveiling a tapestry of inclusive theater games led by the wondrous Curriculum and Instruction Specialist, Donzell Lewis. The saga continued with Darryl King and the brilliant Sr. Program Manager KT Leuterio, creating a crescendo of insights on effective assessments that highlighted the alchemical transformation the arts conjure in the lives of students. The Summer PD also illuminated magical moments from Teaching Artists; collaborating and weaving the threads of lessons centered around the invigorating  theme, "A Year of Play."
Additional highlights from the training include essential operational functions of HR from the always skillful Nikki Manibhai and a special visit from Eric Hall, a Board Member and Chair of the Program Committee. His presence at the Summer PD showcased the profound connection between faculty and our supportive board. Manibhai's presence reinforced the support and infrastructure of the P.S. ARTS professional community. Together, Hall and Manibhai remind us all that there is a wide network of P.S. ARTS advocates working in coalition to help us provide high quality arts training to the 30,000+ students we serve. Lastly, we extend recognition and gratitude to the executive constellation of P.S. ARTS—CEO John Lawler, Deputy Director Elda Pineda, and Programs Director Tiffany Owens—for their unwavering commitment to nurturing opportunities that empower our faculty and staff.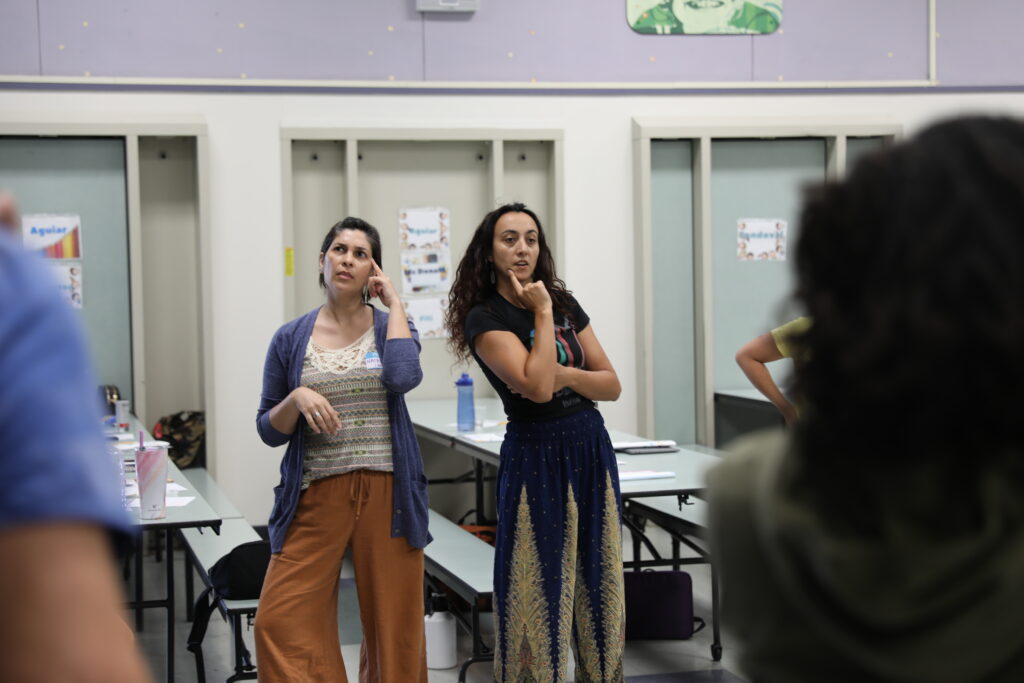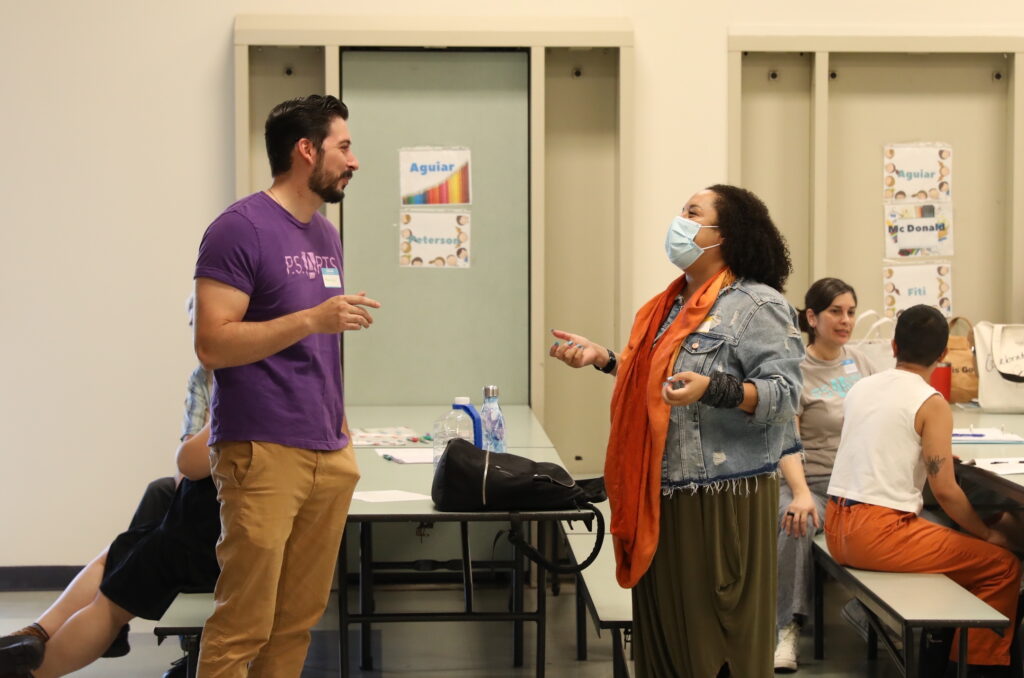 In conclusion, the reviews are in-–this summer's professional development was an epic tale interweaving pedagogy, play, community, and a sense of belonging, the very essence of P.S. ARTS programs. It was a grand opening act that unveiled the organization's enduring devotion to elevating arts education and weaving an intricate tapestry of connections among educators, students, and advocates. And soon to follow will be a year of headlining moments from our students who will masterfully create art week after week in our many P.S. ARTS spaces.