Each year, families across Southern California come together for P.S. ARTS' biggest fundraiser of the year, Express Yourself. This fun-filled afternoon gives adults and children an opportunity to experience the joy and creativity that nearly 25,000 students discover every day in our classrooms with art booths and activities for all ages. This family-friendly event ensures that P.S. ARTS will continue to thrive in a community that encourages creativity and the opportunity for all children, regardless of background, to express themselves.

Express Yourself will return on May 21, 2022 from 12-3 PM at the Fox Studio Lot!*
Hosted by Tess Sanchez & Max Greenfield
*Proof of vaccination required upon entry.
Attending? Here is what you need to know for entry:
All guests must fill out the COVID safety online screening form the day of the event in order to enter. On the day of the event, before leaving your house, click the link below to fill out the form. If you receive a green "Go to Work" response, screenshot the status on your mobile device to present it for entry when you drive up to the gate. The form takes no more than 30 seconds to complete and can be found here: https://workmatters.workcare.com/

Proof of vaccination must be presented at check in
All guest names must be included on the security list for Fox (including ages 0-2), if you have not already listed them at the time of ticket(s) purchasing or emailed them to Liliana, please send them now to Liliana Wolking at liliana.wolking@psarts.org
All adults must present a valid ID at the gate, as well as any minors that are driving onto the lot
The event is cashless, the raffle and merchandise booth will take credit cards
Thank You to Our Sponsors
Melissa & Cyrus Arman
Starr Silver-Baker & Eli Baker
Brielle & Charles Block
Danielle & Adam Del Deo
Jessica & Daniel Flesh
Laura Fox & Ben Van de Bunt
Carolyn & Damian Giangiacomo

Reynolds Family Foundation
Shari Rosenblum & Marc Botnick
*$50 of each ticket is not tax-deductible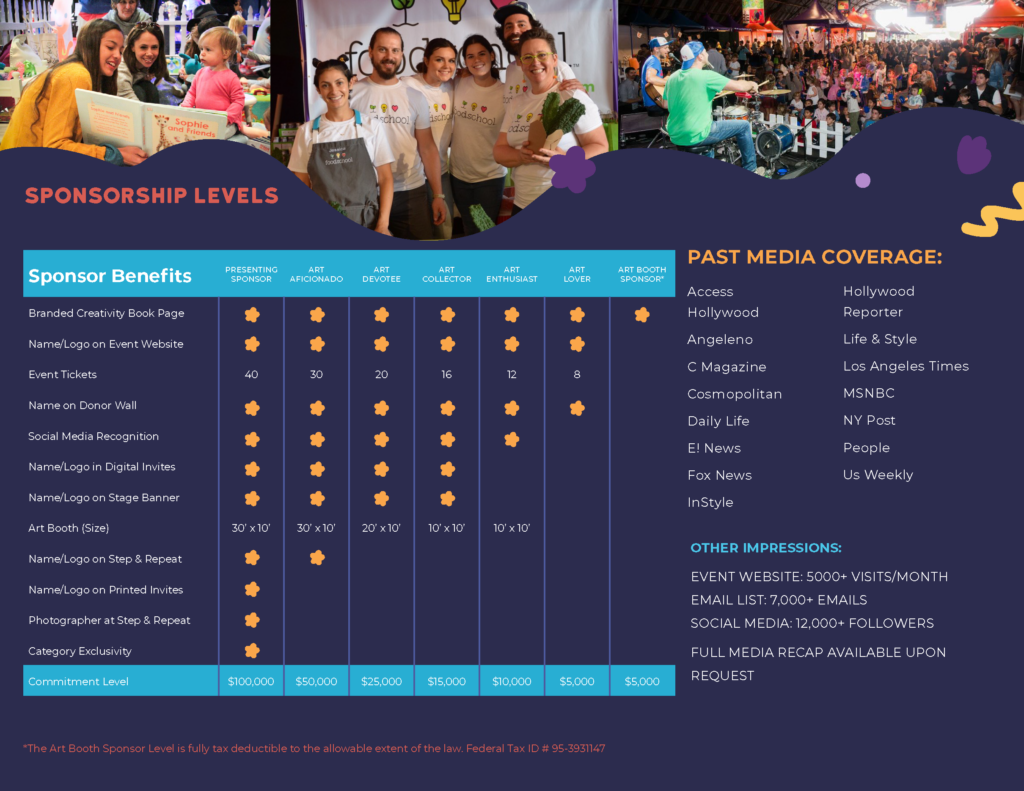 Event Co-Chairs: Carolyn Giangiacomo and Shari Rosenblum
Event Committee: 
Jessica Anderson           
Dara Beer           
Aimee Blank                
Brielle Block                
Lauren Clark Taitz 
Theresa de los Santos   
Danielle del Deo
Hayden Ellison      
Meredith Hall
Lezlie Johnson             
Kimberly Kreuzberger          
Tawny Krintzman                
Rachel Levin  
Lydia McCutchen
Kimberly Nachtomi     
Lauren Park         
Jenny Resnik
Suzanne Rode   
Lacey Rose
Rachel Schwartz 
Starr Silver-Baker        
Laura Solomon   
Sharon Stroll      
Wendy Sugarman        
Shelton Wilder   
Lauren Winnick  
In the wake of countless news stories involving gun violence, but especially in light of the tragic loss...