In the wake of countless news stories involving gun violence, but especially in light of the tragic loss of 19 children and two teachers at Robb Elementary School in Ulvade, Texas, P.S. ARTS wants to help our community through these difficult times and conversations. We want our students to be able to express themselves freely, regardless of whatever feelings these tragic events may prompt. We've gathered a series of resources for parents, educators, and adults to help the children in their lives process and express their thoughts and feelings around the news of violence and tragedy.
To help the victims of the Robb Elementary School shooting and their families directly, you can donate to the GoFundMe created by Victims First and Every Town for Gun Safety. One hundred percent of what is collected goes directly to the victim and their families and loved ones.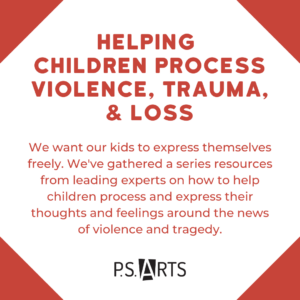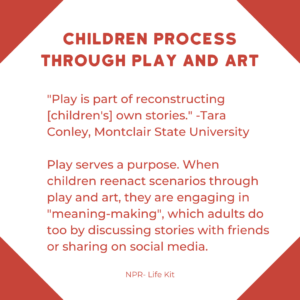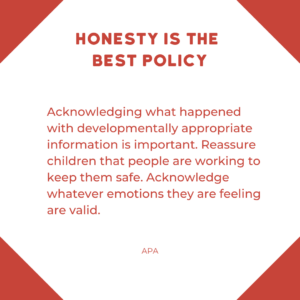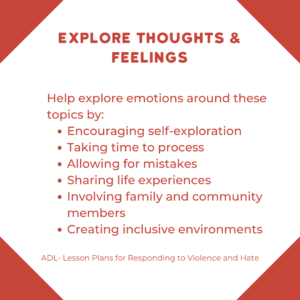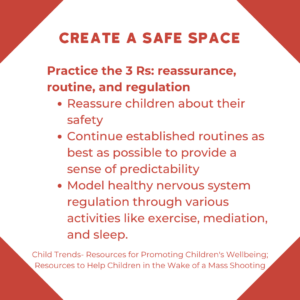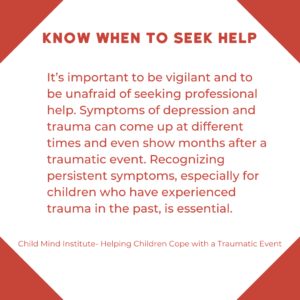 Resources from NPR, APA, Child Trends, The Child Mind Institute, and ADL:
Children process through play and art. "Play is part of reconstructing [children's] own stories." -Tara Conley, Montclair State University. Play serves a purpose. When children reenact scenarios through play and art, they are engaging in "meaning-making", which adults do too by discussing stories with friends or sharing on social media.
Honesty is the best policy. 

Acknowledging what happened with developmentally appropriate information is important. Reassure children that people are working to keep them safe. Acknowledge whatever emotions they are feeling are valid.

Create a safe space. Practice the 3 Rs: reassurance, routine, and regulation.

Reassure children about their safety

Continue established routines as best as possible to provide a sense of predictability

Model healthy nervous system regulation through various activities like exercise, mediation, and sleep.

Explore thoughts and feelings. Help explore emotions around these topics by:

Encouraging self-exploration

Taking time to process

Allowing for mistakes

Sharing life experiences

Involving family and community members

Creating inclusive environments

Know when to seek help.

It's important to be vigilant and to be unafraid of seeking professional help. Symptoms of depression and trauma can come up at different times and even show months after a traumatic event. Recognizing persistent symptoms, especially for children who have experienced trauma in the past, is essential.
Resources
Mental Health Resources