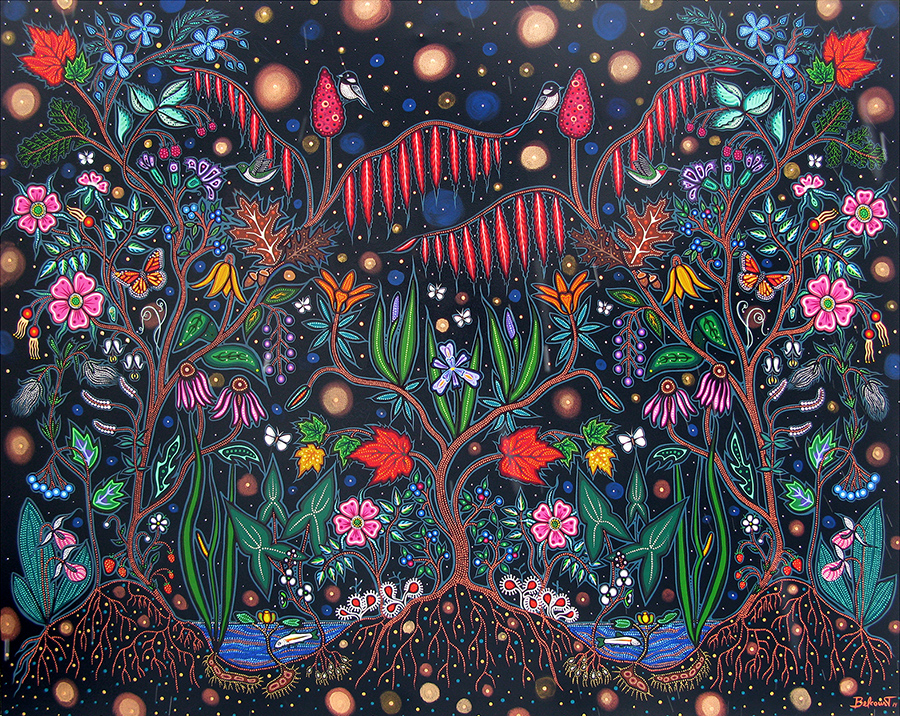 In this blog post, P.S. ARTS Digital Content Manager, Aracely Jimenez, shares some thoughts on gratitude and indigenous art this season. 
Gratitude is a deeply sacred practice among Native people, and it's been practiced long before the so-called first Thanksgiving. Today and everyday, we encourage everyone to engage with contemporary indigenous artists who tell the true history of gratitude and giving thanks on this continent. The above painting, Our Lives are in the Land, by Metis artist, Christi Belcourt reminds us that "the plants are teachers. They are connected to each other, and all other spiritual beings through the sacredness of life. When I remember who I am – a human being connected to all of life – I remember also that I am loved by the spirit world and our ancestors. And when I remember this, I remember to respect even the smallest of things."
Erasure of indigenous people is manifest today in harmful practices, policies, and stereotypes, including through arts and media. Despite the many atrocities committed, Native artists remain committed to creating vibrant communities and preserving artistic traditions. We are using our curriculum in a mindful effort to bring attention to the work of Native contemporary artists to combat the erasure of the culture and contributions of Native peoples. That's why this year we are introducing our 25,000 students to Our Lives Are In The Land, which is a featured Anchorwork for our 2022-23 programs theme. Belcourt hopes that through her work we will remember the interconnected nature of our existence on this planet. As we rest this weekend and spend time with our loved ones, we leave you with Christi's words to consider: "This wondrous planet, so full of mystery, is a paradise. All I want to do is give everything I have, my energy, my love, my labor—all of it in gratitude for what we are given.
Thank you, Aracely! To learn more about the Theme & Anchorworks guide for the 2022-23 school year, click here.