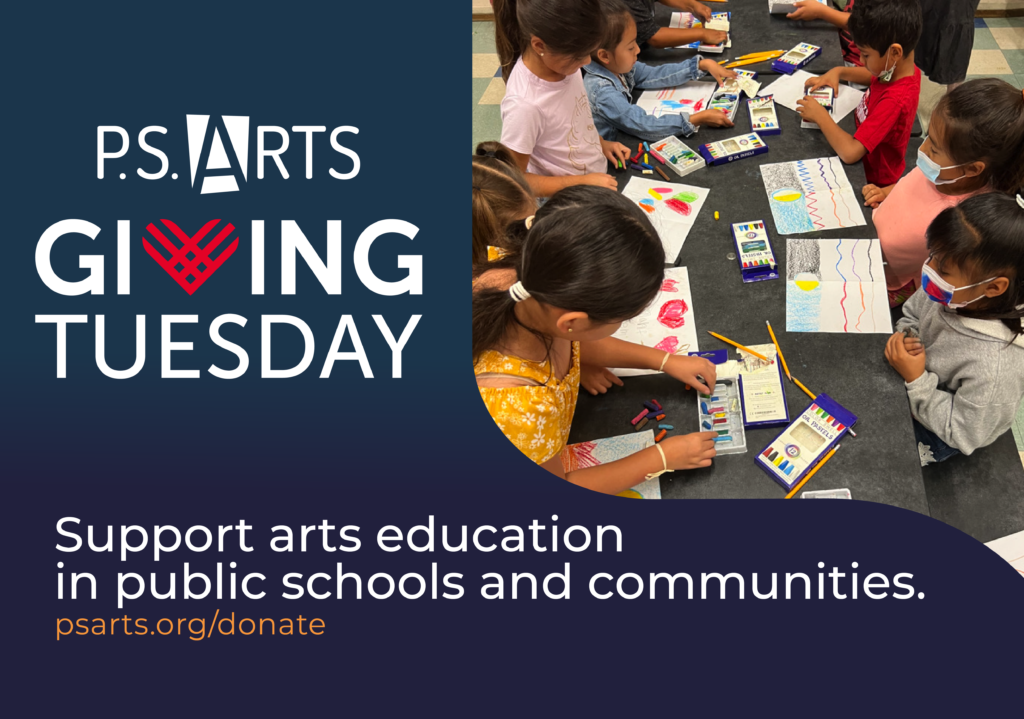 Tuesday, November 29 marks the next #GivingTuesday, a social media movement that began in 2012 as a coalition of nonprofit organizations that encouraged people to use the Tuesday after Thanksgiving as a day for gift-giving to charities.  It's a campaign designed to create a national day of giving as a way to honor and support your favorite organizations! 
At P.S. ARTS, we are so grateful for the many ways individuals choose to give to our organization. Whether it's your time, talent, or treasure, your gift makes a difference – especially to the 25,000 students we serve. In honor of #GivingTuesday, we wanted to share the different ways you can give to our organization to ensure that we continue providing high-quality arts education in public schools and communities:
By giving a gift.  Today only, all donations will be matched up to $10,000! You can donate directly in support of our programs, and you can even give the gift of cryptocurrency, stocks, or bonds. For just $250, P.S. ARTS is able to provide arts education to one child for an ENTIRE school year. With just the click of a mouse, you could help improve a child's life. Whether you're able to give $25 or $250 or $2,500, every little bit counts! Don't forget to check the Double the Donation box on the right hand side to see if the company you work for matches gifts!
By shopping online.  P.S. ARTS has swag and art kits available in our online store that make great gifts this holiday season (free wrapping available on several items)! You can also give back while you shop on Amazon, they'll donate a portion of sales when you list P.S. ARTS as your chosen nonprofit on AmazonSmile. 
By starting a Facebook fundraiser. Follow these step-by-step instructions to start a P.S. ARTS fundraiser on Facebook to engage your network of friends. The instructions toolkit includes everything you need to get started including images (which you can also download at the bottom of this page to share out) and sample text for posts.
By spreading the word.  At P.S. ARTS, we believe that every child deserves a high-quality and well-rounded education. By encouraging others to learn about the work we are doing in our communities, you are helping raise awareness for arts education and the field of education as a whole. It's as easy as sharing a P.S. ARTS Facebook post, Instagram post, or tweet. The more of us that are in this together, the closer we will come to guaranteeing a great education for the children in our community.
We love that #GivingTuesday is an opportunity for people to share what they have to help others and build stronger communities. From the bottom of our hearts, we thank each and every one of you for your continued generosity and support of our organization.